DTL / DTL-2 Bimetal Cable Lug
Product Detail
Product Tags
Overview
A cable lug for mounting on the end of a cable for making electrical connection between a conductor of the cable and other electrical equipment. The lug includes a palm for connecting the lug to the electrical equipment, a generally elongate cylindrical barrel for receiving therein one end of the cable conductor, and an insert for disposal within the barrel and for extending around and along the inner surface of the barrel to align the lug more concentrically on smaller cables, preferably with the barrel being conveniently made with uniform wall thickness.
Standard copper cable lugs and inline connectors are used with copper cables and wires in general industrial, commercial and domestic applications.
DTL Bimetal Cable Lug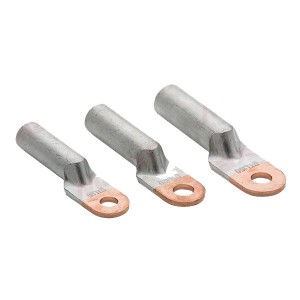 Application:
Bimetallic lug are mostly useful where an aluminum cable has to be terminated by a copper busbar or copper contact.
Technique of production:
The transition section between aluminum and copper is produced by friction welding, no breaking welding.
Barrels are supplied capped and filled with jointing compound to avoid oxidation of the aluminum conductor.
Material: 99.9% purity copper & 99.5% purity aluminum.
Final treatment: Acid cleaning
Introductions for ordering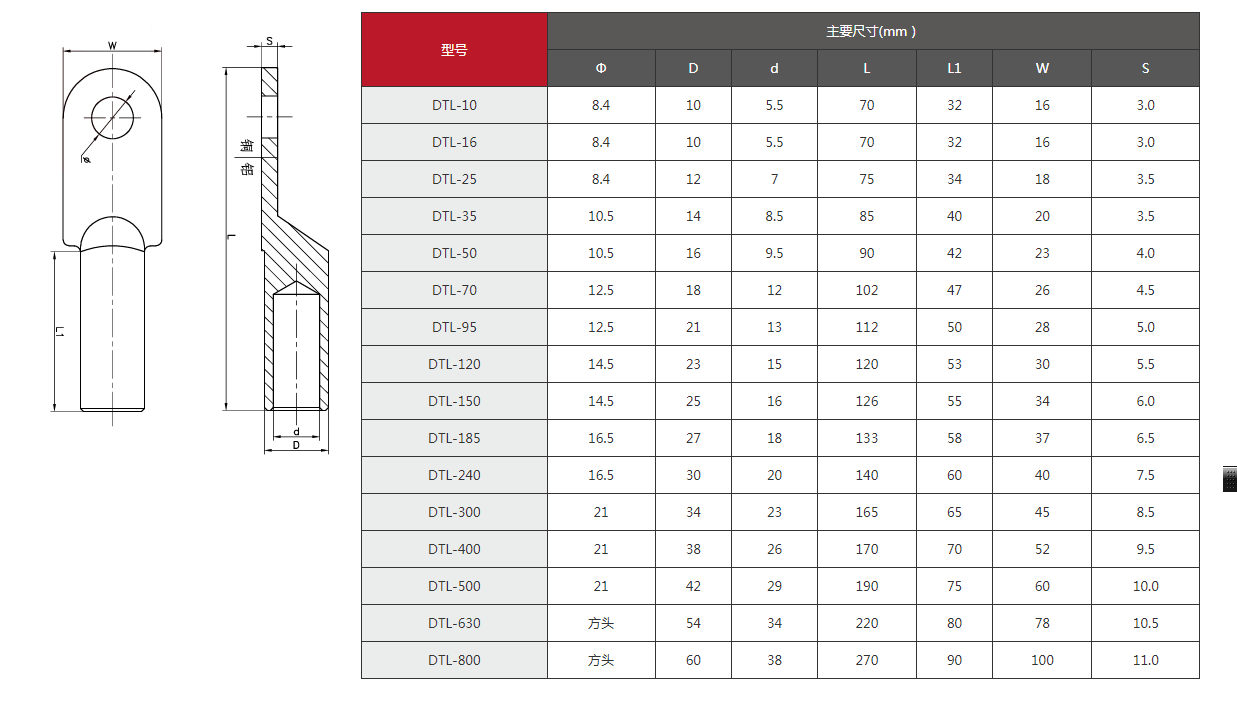 DTL-2 Bimetal cable lug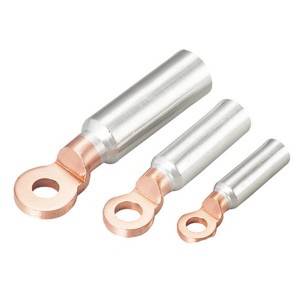 Barrels are supplied capped and filled with jointing compound to avoid oxidation of the aluminum conductor.
Material: 99.9% purity copper & 99.5% purity aluminum.
Final treatment: Acid cleaning
Selection Table
DTL-2 Bimetal cable lug
Type
Main size(mm)
Φ
D
d
L
L1
DTL-2-16
8.5
16
5.5
90
42
DTL-2-25
8.5
16
6.5
90
42
DTL-2-35
8.5
16
8.5
90
42
DTL-2-50
12.8
20
9
90
43
DTL-2-70
12.8
20
11
90
43
DTL-2-95
12.8
20
12.5
90
43
DTL-2-120
12.8
25
13.7
118
60
DTL-2-150
12.8
25
15.5
118
60
DTL-2-185
12.8
32
17
120
60
DTL-2-240
12.8
32
19.5
120
60
DTL-2-300
12.8
34
22.5
130
62
DTL-2-400
12.8
41
26.5
145
70
DTL-2-500
47
29.5
200
90
DTL-2-600
47
34
200
90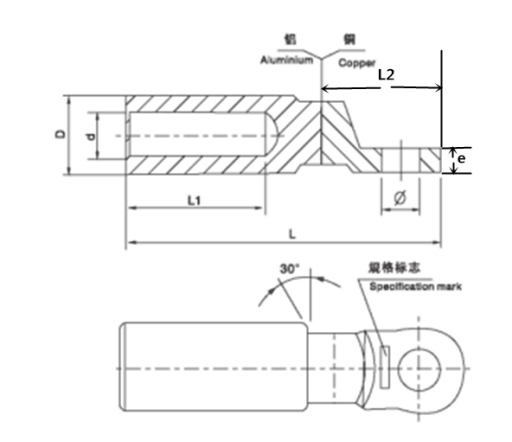 ---
Previous:
NXJ Aluminum Tension Clamp
---