Product Detail
Product Tags
Automatic splice connector

Type

AAAC(mm²)

Overhead insulated wire (mm²)

ACSR(mm²)

Diameter range  (mm)

Color

GL-401

 

 

 

4.68-6.7

Blue

GL-402A

16

16

16

5.59-6.35

Red

GL-4042A

35

35

35

5.59-8.13

Red 

GL-404A

35

35

35

5.84-8.60

Red 

GL-406A

50

50

50

9.02-10.16

Yellow

GL4076A

 

 

 

9.02-11.94

Yellow

GL-407

70

70

70

10.16-11.94

Black

GL-408

95

95

95

11.43-13.46

Black

GL-4098

 

 

 

11.43-15.11

Black

GL-409A

120

120

120

12.83-15.11

Black

GL-410

150

150

150

15.32-16.92

Green

GL-411

150

150

150

16.74-18.39

Green

GL-412

185

185

185

18.34-20.19

White

GL-413

240

240

240

19.81-21.79

White

GLT-1316A

——

——

120

——

Natural color

GLT-1317A

——

——

150

——

 

GLT-1319A

——

——

240

——

 Blue

GLT-1333A+

300

Please consult us

240

21.34-23.37

Natural color

GLT-1355A+

300

Please consult us

 

23.80-24.80

Natural color

GLT-1385A+

400

Please consult us

 

25.3-26.19

Natural color

GLT-1441A+

500

Please consult us

 

27.94-28.95

Red

Overview
Aluminum Automatic Splice cable connector is suitable for maintenance and repair of broken line or new line.A tension-dependent device in which the line is installed with at least 10% tension of the rated strength of the wire to ensure a reliable electrical connection, and the current is transmitted to the other end through the wire clip of the wire. Taper type automatic quick connector (full tension automatic connector)
Feature
1.It can withstand the full strength of the wire itself
2.Hammer housing design ensures high strength adhesion to the wire
3.The inner wire clip is embedded into the inner wire
4.It can provide conductivity not lost to the conductor
5.The wire clip can conduct current to the housing with higher conductivity
6.The clamping jaws of the wire clip can penetrate the residual oxide layer on the wire surface
7.Large contact points help dissipate heat
8.The meshing metal clamp maintains good electrical conductivity under various conditions of tension variation
9.No special tools for installation, no crimping operation
10.Convenient for live work installation
11.The installation steps are simplified and the safety of operation is greatly improved
Installation Guide
1. Remove the oxide skin with the conductor brush.  
2. Be sure the conductor is clean,straight, free of burrs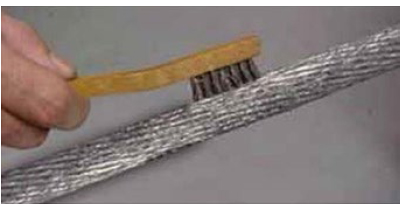 3.Measure the the length from the knurl end to the end of funnel guide, then marked.

4. Steady inserting the conductor to the center stop. After that make sure the wire is fixed.

---
Previous:
The first stepless shear bolt.
Next:
Wedge clamp
---